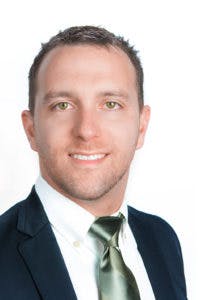 Ricky Hill
Graduated university with Bachelor of Arts in Economics & Psychology, all while working through school in the hospitality industry where he discovered a passion for marketing and operations along with the fast-paced environment and constant challenges.
In his spare time, Ricky is a very active fundraiser for the Stollery Children's Hospital, and he enjoys all Edmonton has to offer especially summertime in the River Valley. He stays active as well by playing tennis at the Royal Glenora Club along with yoga and Orange Theory Fitness.
Q: From a customer's perspective, what do think are the most beneficial reasons why I should work with you?
A: As a company, Remax has a dominant market share and is one of the most-recognized brands in the world. At our Remax office in Riverbend, we work with some of the most experienced and accomplished realtors in Edmonton.
The key advantage is that Marcel and I have a lot of real estate experience from buying and selling properties ourselves, rental properties, renovations, and infill development projects. We can speak from experience and give our clients guidance and advice on how to use real estate to build wealth.
Q: Customers need to feel comfortable with a real estate agent. What do you believe are your best personal qualities that make your clients trust you?
A: I feel my best personal quality is dedication and being available to clients until they find their perfect home. I'm there for them all the way. I am very attentive to client needs and will work with them to find the perfect home to suit their lifestyle. I make sure I read and research the newest and hottest trends in interior design, floor plans, and real estate as well as stay on top of current trends in the real estate market.
---
Marcel de Moissac
At just 17 years old, Marcel passed the exam to receive his life insurance license, and then proceeded to get his mutual funds license only a year later. After working in financial services, he moved into sales and was the top salesperson in Edmonton and top-five in Canada for furniture powerhouse Leon's. Marcel then had a five-year stint with Jayman Masterbuilt and moved up the ladder quickly from sales associate to area sales manager in only six months. For the next four years, Marcel worked in Southfork, a community in Leduc, where he worked on everything from community planning, lot selection, amenities, marketing, and sales.
Marcel has been married to his wife Samantha for five amazing years and they have two children, two-year-old Sebastian and two-month-old Eleanor. To stay active, Marcel enjoys golf, hockey, and tennis along with cards and board games with family, friends, and clients.
Q: Despite great sales numbers with your previous company, why did you make the move to RE/MAX?
A: I had the realization that I wasn't in the position to give people exactly what they were looking for and my reach to accommodate clients was very limited. The natural leap was to become a realtor and a new home specialist with the ability to show clients everything available to them which makes the customer experience so much better.

Q: Why do customers find you such a great realtor to work with?
A: I believe it's my work ethic, knowledge, experience, and that I have so much fun doing it. It's the perfect combination. Most realtors only have one or two of those qualities. Our team is the real deal.
I live and breathe real estate. I think it's important to work with someone who has already been down the path and seen the good and bad sides of real estate, and how to help them make the best purchasing decisions. My wife and I own 45 rental units as well as the new infill spec line we are introducing in 2016. We don't just sell real estate – we live and breathe it on a constant basis. We are as invested as we possibly can be.